INTERNATIONAL
Reservations
From January 15 to March 31, 2023

All International reservations are handled by Jan, feel free to ask any questions pertinent to your trip planning.
If seats are available for your requested dates we will send you a PayPal Invoice for a deposit of $10 USD per adult.
When your deposit is confirmed by PayPal you will receive an email boarding pass.

National
& Dominican Republic
Residents Reservations

Within 72 hours of departure or if you are right now in vacation on the island or for resident discounts and for group rates.
You can also call directly to our office and speak to Judy at Tel. 809 538-2494

Please reconfirm departure time ! Reconfirm your WHALE WATCHING TOUR when you arrive in the Dominican Republic with Judy at the office at
Tel. 809 538-2494

Whale watch with Kim Beddall and meet our humpbacks, here in Samaná Bay!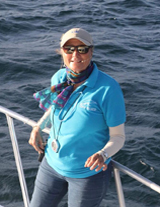 A unique opportunity to observe humpback whales in their natural calving and mating grounds here in Samana Bay, Dominican Republic.
Listen to the male humpback's solitary courting song and witness incredible displays of flippering, tail lobbing and breaching by the most active species of whale in the Atlantic.
On board, a Marine Mammal Specialist narrating
and answering questions.


An Experience of a Lifetime, not to be missed!
Dates/Time


January 15th to February 3rd one trip daily at 10:00 AM.

February 4th to March 11th twice daily at 9:00AM & 1:30PM.

March 12th to 31th one trip daily at 10:00AM.



Departure Samana


Main town dock, across the street from the Whale Samana office.



On board


Pura Mia, 55' Custom Whale Watch vessel.
Post COVID capacity: 58 persons, allowing lots of space for social distancing.



Safety and Security


VHF Radio, Fire extinguishers and First aid on board.
Approved life jackets and rain gear on board.
Crew will wear masks, join us if you would like.



Services


Two modern bathrooms with running water, soap and hand sanitizer.
Sound system with underwater hydrophone, Souvenirs and educational material.
Marine Mammal specialists and scientific data collection on every trip.
Narration in two languages and interpreters available.
We comply with the Samaná Bay whale watch regulations.



Includes


Soft drinks, water, crackers and mixed candies.
Dramamine tablets and Acu-pressure sea bands, to help with seasickness, are available.



Prices


Whale Watch only: $59.00 USD per person
Children 12 years of age and under: $30.00 USD



NOTE


Not recommended for infants under 2 years of age.
Optional visit to Cayo Levantado, $US 5.00 per person, for return transfer.



Price does not include


$US 5.00 Marine Mammal Sanctuary Entrance fee.

"Safe, Sensitive Whale Watching
with Kim Beddall".



For Reservations:

Whale Samana Office: 809-538-2494

WhatsApp: 829-470-3671

Via Email: whalesamana@gmail.com

SEE YOU ON BOARD!