Reserve Now


by visiting our Home Page
Whale Samana
Whale Samaná promotes responsible whale watching as a viable economic alternative to "whaling" and a sustainable, non-lethal, use of the North Atlantic Humpback whale. "Our Humpbacks are all born here, that makes them Dominican citizens, they migrate north to feed but always return to their beautiful homeland in the sun." It is our responsibility to protect this amazing resource, patrimony of the Dominican Republic and the greater Caribbean.
Office: Judy Polanco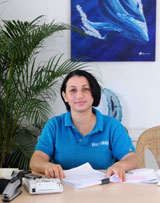 Judy Polanco is the voice on the phone and the driving force that keeps our operation running. The most important things in her life are; her faith in God, her family and her commitment to children in need, spearheading programs through her church and social organizations. With the same dedication, Judy has made our office her second home and in her words, "just as whale song brings harmony to the depths of the ocean, managing Whale Samana balances the rest of her life".
Whale watch vessel: Pura Mia
Custom built 55 foot whale watch vessel with two decks and 360 degree visibility for optimum whale observation. Viewing angle of 6 to 12 feet above sea level insures that passengers are watching whales and not waves. Carries 60 passengers comfortably, with room to move around, providing both sunny and shady areas onboard. Snack bar / service area, educational materials, whale gifts and two bathrooms with running water complete the service.
Captain: Mariano King
Captain Mariano King, born and raised in Samana, is a direct descendant of American immigrants from Philadelphia that settled here in 1824. His nickname is "Pimpo" and he has been captaining whale watch vessels since 1992 here in Samana Bay. With 20 years of experience, along with an affinity for and understanding of Humpback whale behavior, that is sometimes astonishing, both our passengers and Samana's whales are in competent hands, in the whale watch area.
Naturalist: Kim Beddall
Kim Beddall, animal advocate and conservationist, born and raised in Pickering, Ontario, Canada, has been sharing her passion for marine mammals with whale watchers since 1983. Kim is the founder of commercial whale watching in Samaná, now considered one of the top ten destinations in the world to observe threatened, North Atlantic Humpback whales.
Naturalist: Pierre Gallego
Dr. Pierre Gallego, is a veterinarian specialized in marine mammals. He has worked with cetaceans in the Strait of Gibraltar, the Azores, Egypt, and now the Dominican Republic. Pierre is a consultant for several international animal welfare organizations, was involved in the report against seal clubbing which led to the European Union ban on the import of seal products, in the rescue of illegally imported dolphins, as well as in the evaluation and closure of captive dolphin facilities. He is the scientific advisor and alternate commissioner at the International Whaling Commission for Luxembourg. Studying and protecting marine mammals are his passion and water is his element.
Photographer: Sarah Celano
Sarah Celano, lives in Tadoussac, a small village on the St. Lawrence River in Quebec, Canada. In the summer she works as a photographer in this amazing feeding area that attracts many species of marine mammals from the North Atlantic along with whale watchers from all over the world. In the winter, Sarah follows whales and this will be her second season here in Samana with Humpbacks. Sarah believes, the more we know about animal species, the easier it is to protect them. She hopes that through her pictures she can share the magnificence of this wild world around us that is becoming more fragile every day. Sarah donates all her photographs to the local data base at the end of the season in order to keep a record of the individuals that return each winter.
Data Collector: Maria Sarhani
Guest Photographer: Eva Reznickova
Eva Reznickova (left), born in the Czech Republic picked up a camera last winter and her natural talent for photography soared as she delighted us daily with the images she had captured. Eva added over 100 tail fluke shots to the CEBSE data base in 2012 and will be a guest with us for three weeks in the 2013 season.
Maria Sarhani (right), lives and works in the nursing profession, in Zurich, Switzerland and spends her winters as a volunteer data collector for the Center for Conservation and Eco development of the Bay of Samana and its Environment (CEBSE). Maria also assists on board with German translations and guest service, with a smile and a kind word for everyone, Maria has become a much appreciated member of our team.
Staff on board: Olmedo and Michel
Olmedo de la Rosa (bottom), at your service on the lower deck. Born and raised in Samana this will be Olmedo's 20th winter on the water with Humpback whales and whale watchers from all over the world. Olmedo's #1 concern is your comfort and safety, with a smile, a pat on the back and a willingness to help under any circumstance.
Michel Guillandeau (top), at your service on the upper deck. Born and raised in Samana Michel has spent his last five winters running up and down the stairs to the top deck , serving drinks, carrying bags and assisting passengers with whatever they need at the moment. Michel's duties also include group photos and assisting the captain.
and Guest Naturalist:
Bernard Amstein