INTERNATIONAL
Reservations
Starting
November 1st
National
& Dominican
Republic
Residents Reservations
Starting
November 1st
Whale Samana
Whale Samaná promotes responsible whale watching as a viable economic alternative to "whaling" and a sustainable, non-lethal, use of the North Atlantic Humpback whale. "Our Humpbacks are all born here, that makes them Dominican citizens, they migrate north to feed but always return to their beautiful homeland in the sun." It is our responsibility to protect this amazing resource, patrimony of the Dominican Republic and the greater Caribbean.
Office: Judy Polanco
Judy Polanco is the voice on the phone and the driving force that keeps our operation running. The most important things in her life are; her faith in God, her family and her commitment to children in need, spearheading programs through her church and social organizations. With the same dedication, Judy has made our office her second home and in her words, "just as whale song brings harmony to the depths of the ocean, managing Whale Samana balances the rest of her life".
Online Reservations : Jan McGillvray
Jan arrived in the Dominican Republic over 30 years ago from Manitoba, Canada and fell in love with the country that would become her new home. Jan was one of the founders of the first "Jeep Safari company" on the island and brings with her many years of experience in the tourism industry. Coupled with her love of the ocean and all marine life she has found her niche as the person responsible for our website reservations and the first contact with Whale Samaná for the majority of our whale watchers planning their vacations here in the Dominican Republic. Jan is a wealth of information and her positive attitude and dedication makes her an invaluable member of the Whale Samaná team.
Whale watch vessel: Pura Mia
Custom built 55 foot whale watch vessel with two decks and 360 degree visibility for optimum whale observation. Viewing angle of 6 to 12 feet above sea level insures that passengers are watching whales and not waves. Carries 60 passengers comfortably, with room to move around, providing both sunny and shady areas onboard. Snack bar / service area, educational materials, whale gifts and two bathrooms with running water complete the service.
Captain: Mariano King
Captain Mariano King, born and raised in Samana, is a direct descendant of American immigrants from Philadelphia that settled here in 1824. His nickname is "Pimpo" and he has been captaining whale watch vessels since 1992 here in Samana Bay. With 20 years of experience, along with an affinity for and understanding of Humpback whale behavior, that is sometimes astonishing, both our passengers and Samana's whales are in competent hands, in the whale watch area.
Naturalist: Kim Beddall
Kim Beddall, animal advocate and conservationist, born and raised in Pickering, Ontario, Canada, has been sharing her passion for marine mammals with whale watchers since 1983. Kim is the founder of commercial whale watching in Samaná, now considered one of the top ten destinations in the world to observe threatened, North Atlantic Humpback whales.
Naturalist: Fatima Kutzschbach
Before dedicating herself full time as a cetacean naturalist, Fatima studied Environmental Education, providing her with skills designed to enhance our way of perceiving experiences with nature and techniques to raise environmental awareness. Born in Germany, her ultimate dream has always been to work with whales and dolphins, leading her to the Canary Islands (Pilot whales), the Azores/Portugal (Sperm whales), Madeira/Portugal (Bottlenose, Atlantic Spotted, Bryde's whales), New Zealand (Sperm and Humpback) and Baja California (Grey whales) as an educator and whale watch naturalist. Sharing her knowledge and love for marine mammals is Fatima's way of raising conservation awareness in order to protect cetacean species all over the world. Fatima's work is her passion and her passion is her work, she realizes exactly what a great gift this is.
Naturalist: Melina Medeiros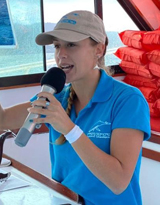 Melina graduated from Concordia University with a degree in Education and Child Studies. She arrived in the Dominican Republic six years ago as a volunteer to work with special needs children and stayed. This will be Melinas third season on board Pura Mia. Her love for animals and her fascination with humpback whales makes Melina a great addition to our team.
Photographer: Eva Reznickova
Eva Reznickova , born in the Czech Republic , picked up a camera for the first time in January 2012 and her natural talent for photography soared as she delighted us daily with the images she captured of Humpback whales here in Samana Bay. Eva has photographed over 1800 individual whales in the last 10 years and as always, we are looking forward to having her on board this winter. Eva is an avid outdoorsman and a tireless defender of animals, volunteering for spay neuter operatives and adopting an abandoned puppy here in Samana, who now shares her life in Prague, along with her boyfriend David.
Eva's smile, sense of humor and zest for adventure make her a popular addition to our team.
Staff on board: Olmedo and Smiling
Olmedo de la Rosa (top), at your service on the lower deck. Born and raised in Samana this will be Olmedo's 20th winter on the water with Humpback whales and whale watchers from all over the world. Olmedo's #1 concern is your comfort and safety, with a smile, a pat on the back and a willingness to help under any circumstance.
Smarling Manuel Medina King nicknamed "Smiling" (bottom) at your service on the top deck. Born and raised in Samaná "Smiling" spends his winters running up and down the stairs to the second deck, serving drinks, filling water bottles, carrying bags and assisting guests in any way necessary to make their experience more comfortable. His other responsibilities include assisting the captain and steering the vessel.
Guest Naturalists:
Bernard Amstein, Pierre Gallego, Rosalie Bergeron, and Jane Stairs.